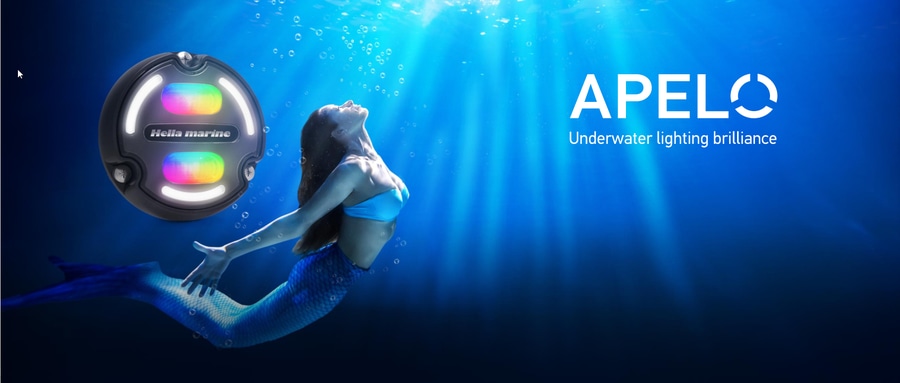 #

Product Trends
HELLA REDEFINES ENTERTAINMENT LIGHTING WITH APELO
Hella marine introduces Apelo underwater lighting, incorporating Optical Intelligence, advanced materials, and robotic manufacturing for superior brilliance and durability.
Apelo underwater lighting brilliance by Hella marine lets you do it all.
Select between incredibly intense white or vibrant blue for amazing illumination experiences, or take complete control and choose any color you wish with Apelo RGB.
Apelo can be relied on to set the perfect dockside mood, boost the party vibe or attract the next trophy catch. Hella marine's unique Optical Intelligence delivers more light with a wide horizontal spread across the transom, and is competitive with lamps offering higher lumen ratings, while using less energy to achieve the same brightness levels.
Apelo comes in models producing 1800 or 3000 lumens of blazing white/blue or RGB light, and marks the debut of Edge Light technology: distinctive glowing signatures of elegant illumination bordering the lamp front.
Expertly designed, precision manufactured, and severely tested in Hella marine's New Zealand facility, Apelo is backed by an industry leading 5 year warranty. Engineered for dry running and absolute waterproof reliability, intelligent electronics sense their environment to regulate the power and control the heat inside. Apelo lamps are completely sealed and certified to IP68 and IP69.
For more information, explore the Apelo website www.apelobrilliance.com
or visit the Apelo Underwater Lighting Product section at hellamarine.com