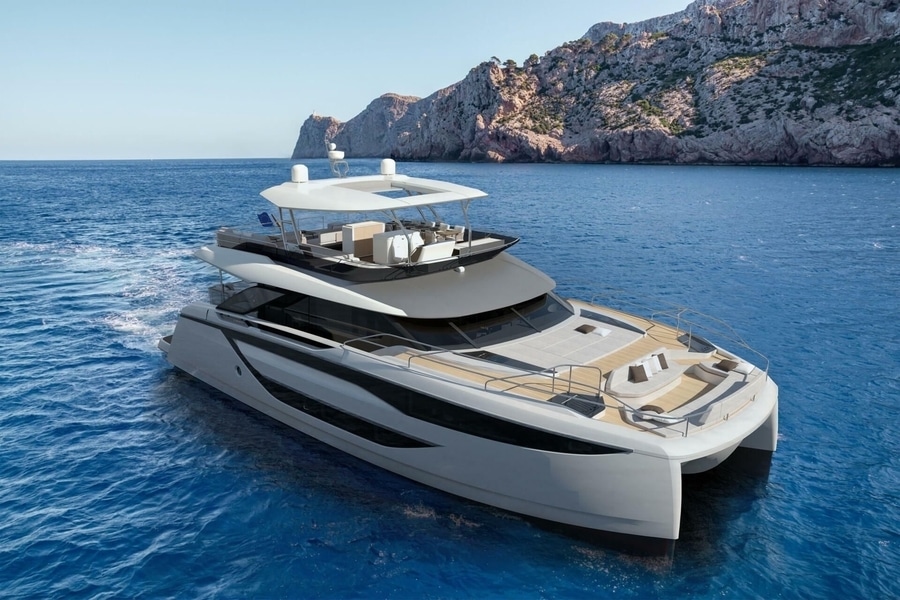 #

Product Trends
PRESTIGE POWERCATS
PRESTIGE has launched the M8, flagship of its multihull yacht line, the M-Line. This new model affords the space and comfort equivalent to that of an 85-foot monohull yacht, targeting the market of large models.
The M8 offers an unprecedented experience: to live in perfect harmony with the sea on smooth cruises, more respectful of the environment with a reduced fuel consumption.
The new M8 is built at the Groupe Beneteau Italia shipyard in Monfalcone, Italy, on the Adriatic coast.
For the design, Garroni Design was called upon for the M8. The M8 embodies the key aesthetics of PRESTIGE within a multihull configuration. This enabled the creation of a multihull that is less wide, but taller than a sailing catamaran, and to offer unequalled surface area and dimensions.
Proportions are typical of a powerful, contemporary motor yacht. The M8 is a true villa on the sea. She offers over 270 m² of living space.
The M8 is equipped with twin Volvo D8 600HP engines – an obvious advantage in maneuvers at port.
The main deck is laid out on a single level, for open, fluid movement on board.
The mobile platform, at 4.20 metres wide, is like a beach club. It can serve as a cockpit terrace, extending the two aft transoms, or it can be lowered under water to facilitate launching a tender. Between the hulls, steps deploy automatically to allow access to the water and boarding. A vast storage locker enables the storage of equipment and water toys.
The benefits of multihull power yachts – design, generous space and light, preservation of privacy, stability, and reduced fuel consumption – explain the growing popularity of the M-Line by PRESTIGE.
www.prestige-yachts.com/en/yachts/5-m-line/
www.orakeimarine.co.nz