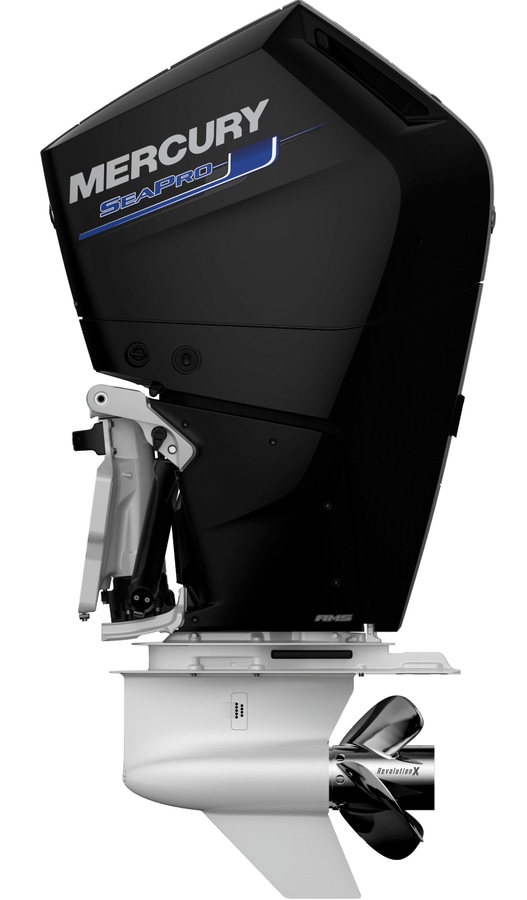 #

Product Trends
ALL-NEW V10 350HP SEAPRO OUTBOARD
Mercury Marine has introduced the 5.7L V10 350hp SeaPro™ outboard. Engineered for commercial applications, this outboard combines the latest innovations and advanced technologies from Mercury's all-new V10 outboard platform.
The V10 SeaPro outboard features an all-new rugged gearcase with advanced hydrodynamics for control, efficiency and durability. The gearcase is validated at three times the lifespan of recreational gearcases.
Mercury has also launched an advanced Electric Steering system. Instead of hydraulics, the system utilises a compact electric steering actuator, freeing up space in the boat while allowing for cleaner transom rigging.
In addition, it consumes less than half the electrical power as electro-hydraulic steering, leaving more power for running other onboard accessories. The system is compatible with all Mercury V10 and V8 Verado® and SeaPro™ outboards with the Advanced MidSection (AMS), as well as Mercury Racing® 450R and 300R outboards with Racing AMS.
Mercury Electric Steering is available for multi-engine boats with compatible engines in April and will be available for single-engine boats in late 2023.
The V10 SeaPro outboard will be available in the second half of 2023.
http://www.mercurymarine.com.au/