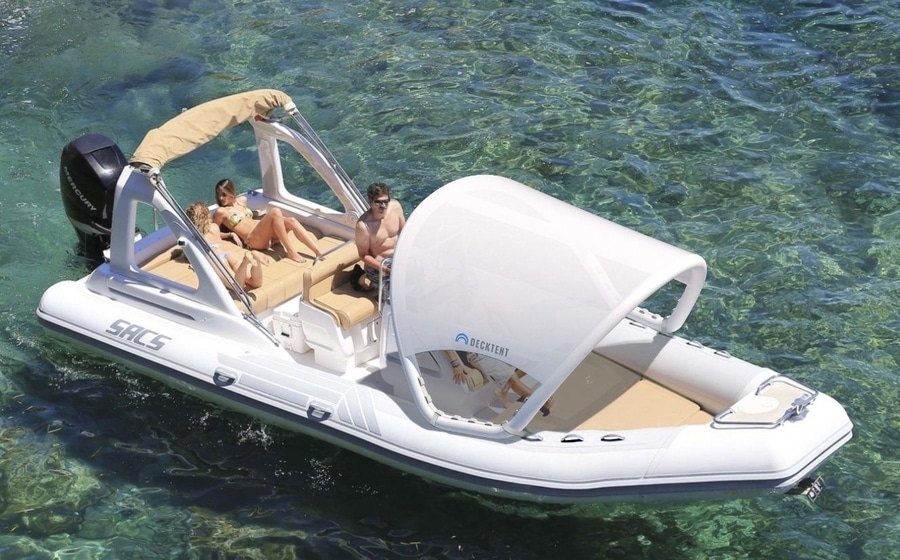 #

Product Trends
Decktent, solid removable inflatable biminis
Decktent is an inflatable deck tent, which can be stowed on the front or rear deck and immediately provides a large amount of additional covered living space. Strong, quick to deploy, Decktent radically transforms the use of the areas it shades, for a modest price.
Decktent deck tents are made of the same material as the inflatable slides. This is a strong material that is insensitive to UV light and salt discoloration. The four sizes of tents available allow almost any yacht to be shaded.
Why is this possible? Because the inflatable legs are somewhat flexible and can be moved 80 cm apart or together without damage, enough to shade your deck!
Talking about deck, we secure these tents thanks to the two short straps provided for each foot. Rail of fargue, foot of balcony, cleat, one finds easily a support to fix the 4 feet there.
Once in place, the set resists to 25 knots of wind!
The inflation is done with an electric pump (not supplied), there are hundreds of models 12 V on cigarette lighter plug or equipped with batteries. Don't expect to inflate them by mouth, the big ones have a volume of 2500 L.
Equipped with a valve to protect them from overpressure, they are secured to the deck, inflated, and that's it.
Empty, the volume is reduced to the volume of a sports bag, you can take it home to use it in your garden!
Decktent, from 750 €.