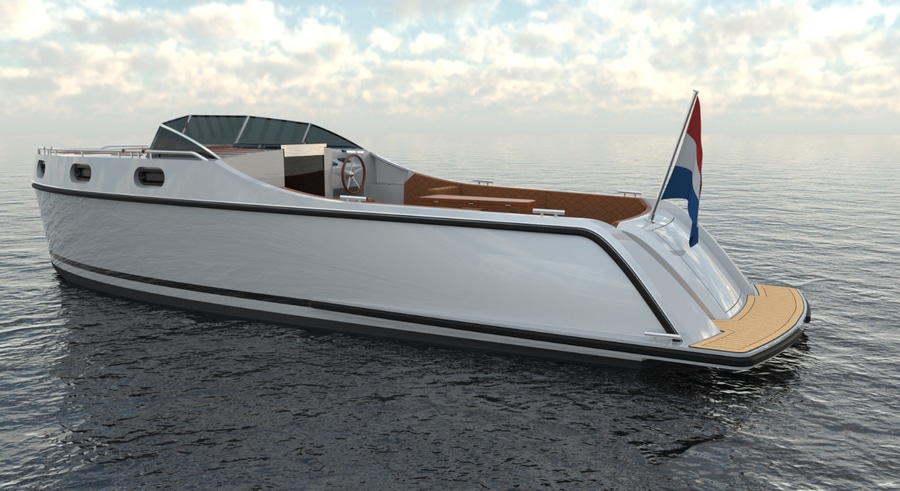 #

Product Trends
Craftmanship Cabin Tender 760, a Dutch electric neo-retro
In the Netherlands, there are canals everywhere, and almost everyone who lives by the water and can moor a boat in front of their house has a boat. We take it out with friends, to go for a ride, to have a drink. The Craftmanship 760 Cabin Tender is designed for this exercise, quiet and emission free!
If you've ever visited Amsterdam and sailed, you can't help but be struck by the sheer number of small private boats that ply the canals and the Ijmeer.
Small open boats, Bakdekker (launches), more or less luxurious, there is something for everyone. The Dutch go out on these boats in the evening, after work, or on weekends, in merry bands, to change air and swim, the time of a picnic.
Marijn Peters lives in Amsterdam, he likes boats and pretty things, never flashy.
That's why he designed his 760 Cabin Tender, an environmentally friendly electric day boat. This is no empty word with a hull made of endlessly recyclable aluminum, a cork deck, a durable antifouling, surfaces left natural and an electric propulsion.
With its rounded bow and matte khaki paint, it looks good, but Marijn can also offer it in raw anodized aluminum, a dress that fits like a glove to this half-retro, half-futuristic machine.
His 760 Cabin Tender combines the codes of a Bakdekker habitable at the front with the rear of a large yacht tender.
The hull of this beautiful boat is coated with Finsulate, a non-biocidal and durable antifouling, well in the spirit of this boat.
When you climb aboard through the large skirt free of bulky outboards, you walk on a cork deck, pleasant underfoot and much lighter in color than the more or less legal teak from Burma, and the bench seat fabrics are, Marijn tells me, made of recycled PET by Sunbrella.
Two small steps separate the deck level from the cabin level. A welcoming cabin with two bunks and their chocolate cushions, a real wood slatted ceiling and raw aluminum walls. To port, a bathroom with its marine toilet, to starboard, a small electric kitchen.
Electric? Yes, because the Craftmanship 760 Cabin Tender is a 100% electric boat, equipped with a 22 kW Greenmarine engine and 48 kWh of 48 V batteries.
That's enough to give a 30 hours autonomy at 5 knots, hours of cooking sausages and refreshing beers with electricity!
Craftmanship 760 Cabin Tender 100.000 € approx. according to customer specifications