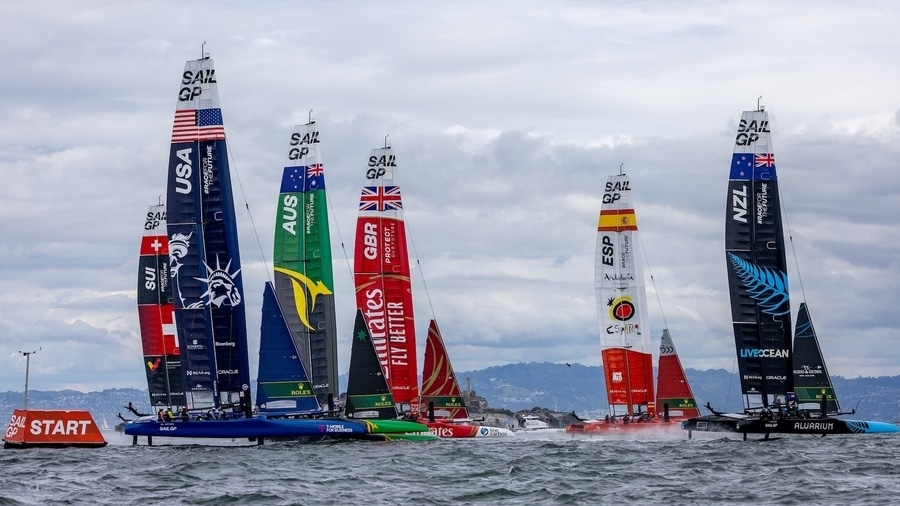 #

Races
5 THINGS TO WATCH OUT FOR AT THE MUBADALA SAILGP SEASON 3 GRAND FINAL | SAN FRANCISCO
The long-awaited Mubadala SailGP Season 3 Grand Final | San Francisco kicks off on Saturday, with five fleet races taking place ahead of the winner-takes-all, three-boat Grand Final. From France's showdown with Emirates GBR to New Zealand's fleet racing performance, we round up the top five things to look out for when racing gets underway at 14.30 PDT.
Emirates Great Britain SailGP Team and France's fleet racing showdown
With just one point separating France in third and Emirates GBR in fourth, the stage is set for a dramatic, last-minute showdown between the two teams to decide which one will secure a place in the winner-takes-all Grand Final. Will Ben Ainslie's San Francisco racing experience lend him an edge or will Quentin Delapierre's team continue to excel in windy conditions?
Will New Zealand stay consistent to secure their place in the three-boat Grand Final?
Currently in second place overall behind defending champions Australia, the Kiwis look comfortable heading into San Francisco. However, New Zealand could lose their coveted place in the Grand Final if they fail to execute a consistent fleet racing performance - opening the door to both France and Emirates GBR moving into the three-boat showdown against Australia. Will Peter Burling hold his nerve?
Will Australia make it three Championship titles from three?
Heading into San Francisco, two-time defending champions Australia is the only team to have qualified for the three-boat Grand Final with an impressive 11-point lead. With a formidable record in three-boat Finals, the Aussies have a chance to secure a three from three record of Championship titles, reasserting their dominance over the fleet.
Will Spithill's experience of San Francisco's wet and windy conditions buoy the home team to success?
While Jimmy Spithill's home team may be out of the running to secure a place in the Grand Final, the team is still gunning for an event win. Will Spithill's experience of San Francisco give the team an edge and cause havoc in the fleet racing standings?
Can Denmark repeat their Impact League success on the water?
Nicolai Sehested's Denmark were crowned Impact League champions in San Francisco, but their recent on-water performance has left them in fifth overall ahead of the weekend. While this rules them out of making the three-boat Grand Final, their Impact League success could provide the morale boost they need to secure some improved racing results.