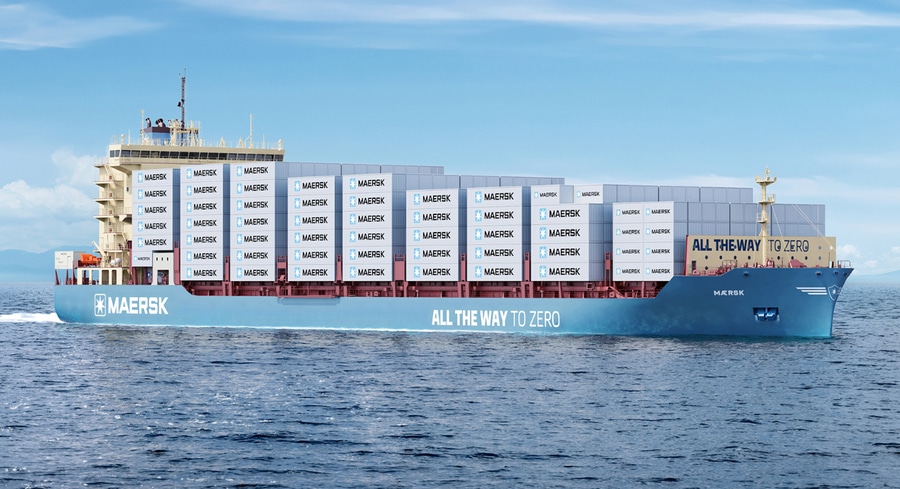 #

Industry News
MAERSK LAUNCH FIRST GREEN METHANOL-POWERED CONTAINERSHIP
Danish shipping company Maersk has launched the world's first green methanol-powered containership.
The vessel, a 2,100 TEU capacity feeder ship, is the first of 19 carbon-neutral ships Maersk has on order that will be powered by green methanol fuel.
The 172m vessel was ordered in July 2021 from Hyundai Mipo Dockyard in South Korea with delivery later this year.
The vessel will be operated by Maersk's Sealand Europe brand, a subsidiary that Maersk is in the process of integrating, on the Baltic shipping route between Northern Europe and the Bay of Bothnia.
In August 2021 Maersk ordered another eight 16,000TEU green methanol-powered ships from South Korea's Hyundai Heavy Industries, and exercised options for four additional sisterships.
In November 2022 the company announced an additional order at HHI for six 17,000 TEU methanol-powered ships. The 18 ships being built by HHI are scheduled for delivery in 2024 and 2025.
To power its methanol-fuelled fleet, Maersk has been lining up suppliers to source the approximately one million metric tons of green methanol fuel per year that the vessels will require.
This will save about 2.3 million metric tons of CO2 from entering the atmosphere annually, compared to conventionally-fuelled ships.