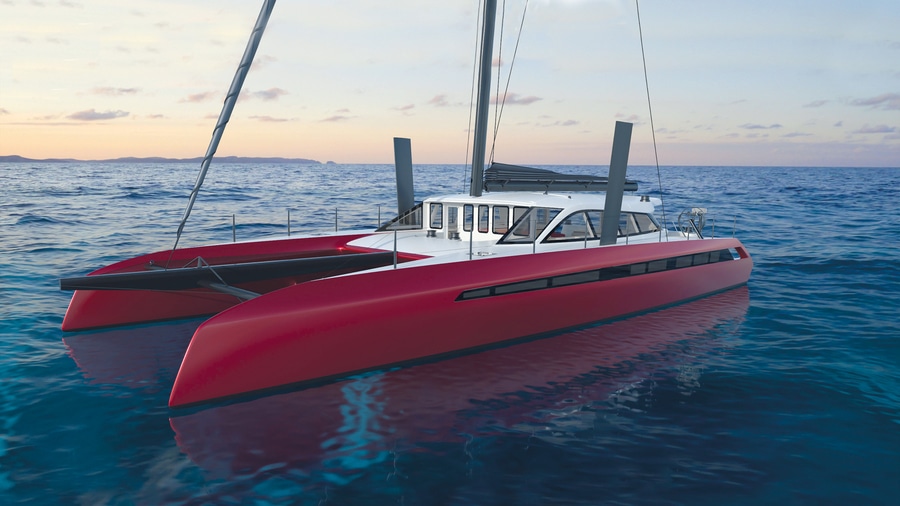 #

Industry News
First look: Gunboat's GB80 and GB70
Toby Hodges on a new dawn of semi-custom supercats as Gunboat continues to turn out a range of impressive cats, now 7 years into their new ownership
In the seven years since Grand Large Yachting purchased cult catamaran brand Gunboat and brought it to a new headquarters in the south of France, it has steadily increased its market stature. Today we see a yard at full capacity, specialising in a real niche of top end quality and high performance, at a big size (and cost).
It has two GB72Vs in build (its first flybridge model), two GB80s, and numbers six and seven of its GB68 – which is now redesigned as the GB70 (featured here). When you consider the GB80 is equivalent to a 100ft superyacht in size and price, you start to understand quite how far this brand has progressed.
I have toured the La Grande-Motte yard a couple of times, the most recent being last year, and have been highly impressed with the quality of engineering and attention to detail.
When I spoke with Gunboat's managing partner, Benoit Lebizay, both then and at the Düsseldorf boat show in January, he explained that they see little point in going below this current size range. Its client base now is a high profile one, with owners typically coming from maxi racing yachts and looking to reduce crew numbers. He also reasons that 55ft is the maximum size before you need a crew, and that once you have a crew you then need privacy.
GB80
A supercat capable of matching low single figure windspeeds yet topping 30 knots, the GB80 has a pretty unique brief: a Grand Prix maxi-sized cat, that can be handled by a small crew, is capable of luxurious world cruising and is a semi-custom repeatable build!
The first GB80 is the latest in serial boat owner Irvine Laidlaw's Highland Fling series, due to launch this summer, while the second is for Team Argo. Hence you get the idea these are for serious, competitive and experienced racing sailors who want a turbo catamaran they can also cruise, with the equivalent accommodation of a maxi yacht. "The cult is coming back – but at a higher end," thinks Lebizay.
To see these beasts in construction phase is eye-opening. These are full prepreg carbon builds with much of the construction done by industry leaders Fibre Mechanics in Lymington and Multiplast in France. Pick up a panel and it's featherlight yet super strong.
An aircraft company builds the furniture in Nomex (including 6mm Corian veneer) – it's incredibly expensive but the most valuable place to save weight, says Lebizay.
Gunboat is now updating its GB68s with the learnings and technology from the GB80.
GB70
The GB68, the first new VPLP designed model under Grand Large Yachting's ownership, has already proved a success. Gunboat has delivered five 68s and has two in build. But this is a six-year-old design now, and has evolved alongside performance developments of the GB80 in build. The new, slightly extended version shown above, is the GB70.
It looks very similar, with the same sporty aesthetic appeal, but the longer hulls and different mast placement could make key differences in performance and handling.
"For this V2 we wanted a small 80, not a big 68," Lebizay explains. "Actually it's a 72 but we already had a 72 [a flybridge model]." Where the GB72V is an extended GB68, with the extension added midships to create wider hulls for increased payload, the 70s are kept narrow. Everything above deck uses new moulds.
A dual aft helm option is now offered as well as Gunboat's signature forward cockpit and interior helm (now with a canting wheel).
Another significant alteration is that the mast is further aft and is stepped on the coachroof rather than in front of the cockpit. This helps allow for a high aspect ratio main and larger foresails, including a generous self-tacking J2/Solent. The reasoning is to make it more balanced and easy to handle.
It should also make a big difference to the views from the interior wheel and saloon.
Historically, Gunboats have had forward cockpits, transverse berths and midships engines to help centralise weight. "But we know how to maintain balance with the mast moved aft like raceboats," says Lebizay. The engines are now in the more conventional position aft and have improved sound proofing insulation.
The saloon area has been extended with better flow and has larger sliding doors connecting the aft cockpit. The owner cabin is now also larger with a longitudinal berth, which is still close to midships, with a bathroom aft. The GB70 is offered as a five cabin version as standard or a four cabin option with galley and crew mess in the port hull to help give more privacy and segregation for owners.
Lebizay thinks the GB70 will be around two tonnes heavier than the GB68, but it is longer and will be able to take a seven tonne payload.