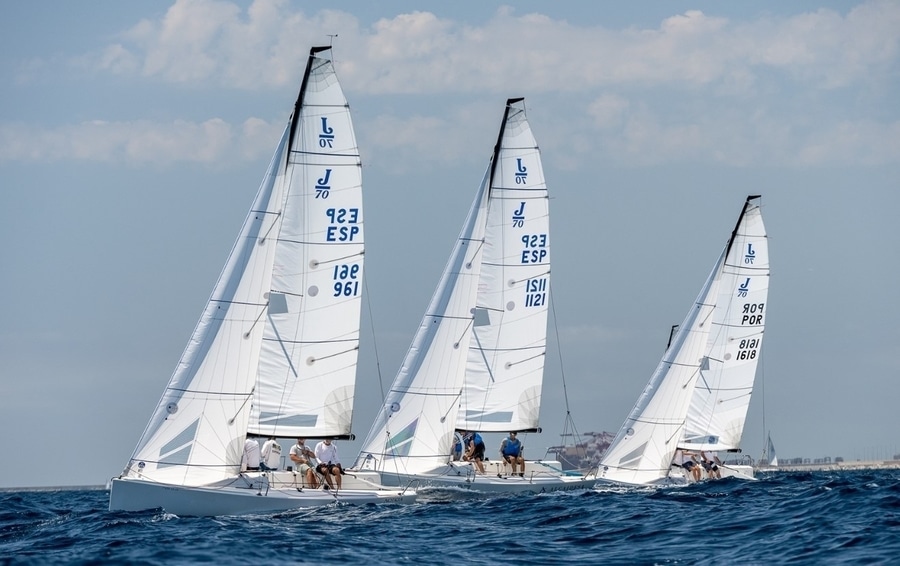 #

Races
J/70 Spring Med Cup concludes at Real Club Nautico de Palma
Last weekend ended the third and final event of the J/70 Spring Mediterranean Cup in the waters of Palma de Mallorca, hosted by the Real Club Nautico de Palma. The Bay of Palma did not disappoint and provided three spectacular days of sailing that allowed the fleet to enjoy 11 of the 12 planned races. The winds were simply remarkable, all three days with 12 to 17 knots from the southerly quadrants.
The first day of racing ended with the provisional podium headed by Luis Albert's PATAKIN, winner of the second event of this Spring Mediterranean Cup. They were followed by the Canary Island team on Martinez Doreste's CLINICAS W, while sitting in third were Luis Martin Cabiedes' NOTICIA and Jorge Martinez Doreste's HANG TEN tied on points.
The protagonist of the second day was undoubtedly Doreste's HANG TEN, who despite his youth, showed his great talent by winning three of the four races on Saturday. With eight races completed, the discard of the worst result came into play, and at the end of the day, there was a triple tie for the lead at 16 points between HANG TEN, PATAKIN, and NOTICIA. CLINICAS W was sitting in fourth 5 pts from the lead.
For the Sunday finale, the committee decided to advance the start time so that three races could be sailed. After the first two races, CLINICAS W posted a 1-2 to dramatically cut the distance between the leaders. The epic final race was NOTICIA in first, followed by HANG TEN, CLINICA W, and PATAKIN. As a result, ALL FOUR boats were tied on points for the lead without the discard. However, computing the final net scores with discard, J.M. Doreste's HANG TEN won, with L.M. Doreste's CLINICAS W in second, Cabiedes' NOTICIA third, Albert's PATAKIN fourth and KANGURU fifth.
This regatta marked the end of the first edition of the J/70 Spring Mediterranean Cup, which was held in March and April, with three events in Barcelona and Palma Mallorca. All events were hosted by Real Club Náutico de Barcelona and the Real Club Náutico de Palma.
For the J/70 Spring Med Cup podium (consisting of three events), the podium was similar to the finale. Winning was HANG TEN, with NOTICIA in second, and CLINICAS W in third place.
Event website: springmediterraneancupj70.com