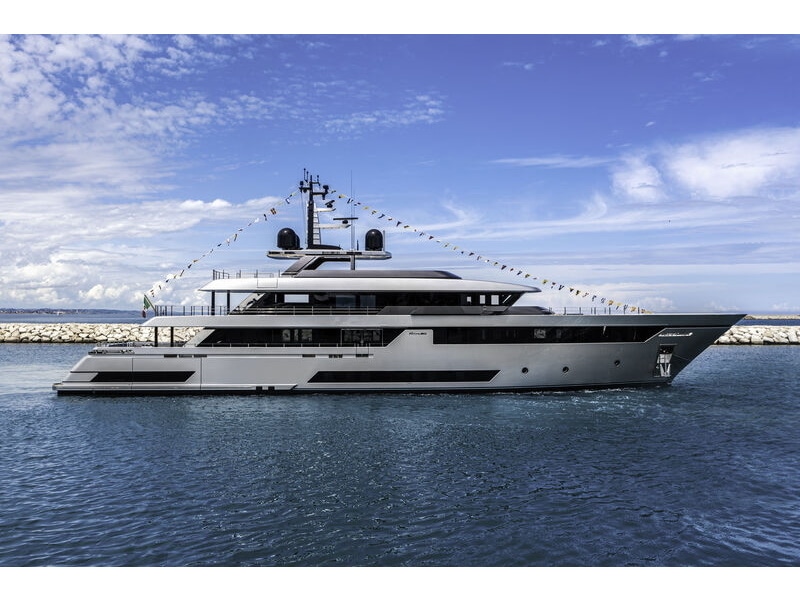 #

Industry News
Riva launches third hull in the Riva 50 Metri yacht series
The third hull in the 49.9-metre Riva 50 Metri yacht series has been launched in Ancona, Italy, at the Riva Superyacht Division facility with her EMEA-based owner in attendance. Her owner is also a fan of the brand and already owns another Riva yacht.
The Riva 50 Metri has been designed in collaboration with Officina Italiana Design which were responsible for her interior and exterior styling. The naval architecture of the steel and aluminium superyacht was completed in-house by the Strategic Product Committee led by Piero Ferrari, and the Ferretti Group Engineering Department.
The Riva 50 Metri superyacht span five decks with an impressive beam of nine-metres. She is characterised by clean and elegant lines and uses a mixture of steel, glass and mahogany to create a modern design vision. In terms of accommodation, the Riva 50 Metri can accommodate up to 10 guests, as well as a crew of nine.
The Riva 50 Metri bridges the gaps between her interior and exterior spaces with a large door that opens up to form an open space with her cockpit. Her interior is adorned with polished steel components, alongside a refined colour palette of greys and mahogany.
The Riva 50 Metri yacht boasts a 120 square-metre sun deck, protected from the elements by a hard top. The space offers guests the opportunity to relax by her generous sunbathing area or in her gorgeous Jacuzzi, as well as the option to dine alfresco.
Performance-wise, the Riva 50 Metri is equipped with twin MTU engines which provide her with a top speed of 15.5 knots, and a comfortable cruising speed of 14 knots.
According to SYT iQ, Riva have several yachts in-build, including the flagship 54-metre Riva 54M superyacht, which has an expected delivery date of 2025.